last upload 03.07.2020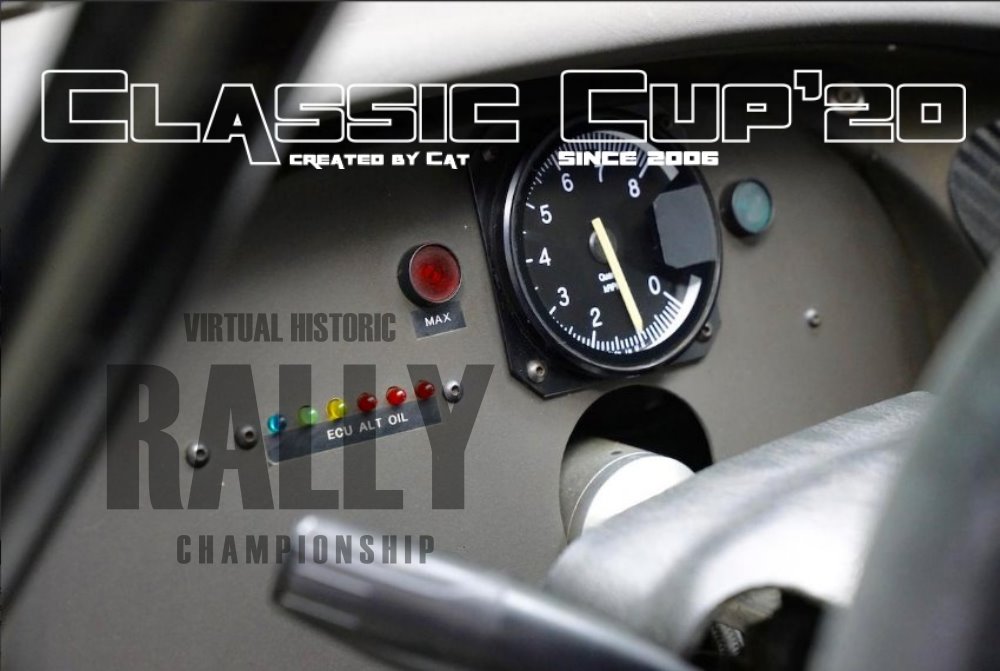 updates during the year: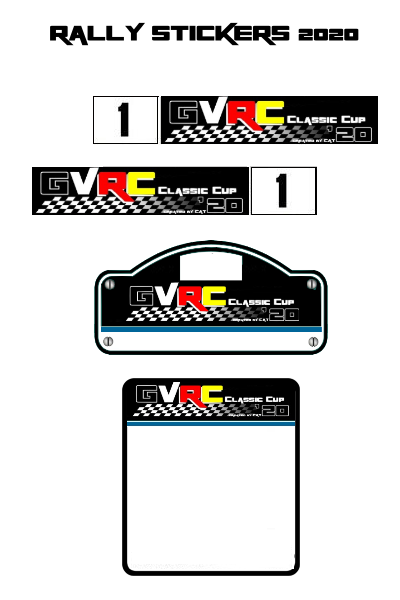 RULES 2020 :

I think that the Basic of the Cup will not change ,
everyone in every car must have the chance to win the Cup.

1.0 Drivers' Championship:
Championship points all drivers to start
- no registration on GVRC Portal
– 10 best international Drivers get a souvenir
– 5 best national GVRC Drivers get a souvenir
all other placed get winner's certificate on request

1.1 Team Championship:
Championship points 2 drivers per team
- Registration on GVRC Portal
- 5 best Teams get a souvenir
all other placed get winner's certificate on request

- only for Team Registration -

you can win only one souvenir
For example:
In the Driver Championship you have the 6.place
In the Team Championship you have the 3.place

So you get the "souvenir" for the 3.place of Team Championship
- or you can choose what you want

All prizes without warranty !

2. Rallyes :
It will be 12 Rallyes , during from Monday to Sunday.
Two worst results don't count towards the final standing.

Only change setup and tyres in service.
The Stages are "Top Secret", so that can not be trained in advance
and it is so a fair solution for all.

2.1 Multiple Accounts:
It is not allowed to use multiple accounts,
in the official Rally are forbidden and can lead to exclusion.


3. Request for tournament reset :
one at each Rallye -

No matter which case occurs, whether accident,
or PC problems, or "Did not start to SS ..."

Requests should be sent via RBR CZ plugin.
Processing takes place daily at the latest 20.00 h CET,
last reset on last day of the tournament at 20.00 h CET.

4. Replays :
The replays of some drivers can be checked ,so we can be sure of a fair Classic Cup !
The replay controls will be announced on the GVRC portal (http://www.ly-racing.de)
and Organizer website (http://rbr-classic-cup.de)
From the time of the announcement, the replays must be sent within 3 days,
either via RBR CZ plugin or mail to caterham[at]bruhy.de ,
after this time you will be disqualified.
After examination of the Replays it is decided whether there is a punishment(penalty).
The height of the punishment(penalty) is decided from case to case from the Classic Cup management .

4.1 Replay time penalty :
Drivers who want to get deleted a time penalty,
has the replays unsolicited upload on http://rbr.onlineracing.cz
The replay must be uploaded no later than 3 days after each rally.

4.2 Cutting:
the street can be cut at the curve interior with a maximum of 3 wheels.
Depending on the cut, a time penalty of 10-30 seconds is given.
When a driver cuts a line in a stage more than 3 times with all 4 wheels on the inside of a turn,
a time penalty of 180 seconds is given to the fastest time in his class.
If the driver loses control of his car, he receives no penalty.

5. Cars :
The Classic Cup 2020 only will run with NGP 6 physics.
You can change the car or group every rally without losing the points.

6. Classes :
Following classes from the tournamet allowed :

Provisional classes are in following order,
it can be made after each race a new classification if needed :
update 17.04.2020
CC0
RWD - Power weight less than 4,0 kg / HP
Aston Martin Vantage RGT
Fiat 124 Abarth Rally RGT (b)
Porsche 911 GT3 RS (2010) RGT
Porsche 911 GT3 RS (2007) RGT
Toyota Celica TCT (TA64) GrpB

CC1
Grp B 4WD - Power weight less than 3,0 kg / HP
combined with CC 2 due to fewer cars


CC2
Grp B 4WD - Power weight less than 4,0 kg / HP
Audi quattro A1 GrpB
Audi Quattro A2 GrB
Audi Sport quattro GrpB
Peugeot 205 T16 GrpB


CC3
Old WRC
Citroen C4 WRC 2008
Citroen Xsara WRC 2006
Ford Focus Mk II RS WRC 2006
Subaru Impreza GDB WRC2003 S9

CC4 I
Audi quattro Grp4
Ford Escort Mk V RS Cosworth GrpA
Mitsubishi Lancer Evo II GrpA
Subaru Impreza GC8 555 GrpA
Toyota Celica 2000GT-FOUR RC (ST185) GrpA

CC4 II
Audi 200 quattro GrpA
Lancia Delta HF 4WD GrpA
Mazda 323 BF 4WD Turbo GrpA

CC5
2WD - Power weight less than 4,5 kg / HP
Lotus Exige S RGT
Porsche 911 SC RS GrpB
Porsche 911 SC 3.0 Grp4
Renault Clio 16S Williams GrpA
VW Golf II GTI 16V GrpA

CC6
2WD - Power weight less than 5,5 kg / HP
Ford Escort Mk II RS Grp4
Opel Ascona 400 GrpA
Opel Manta 400 GrpB
Renault 5 GT Turbo GrpA



CC7
Power weight less than 6,5 kg / HP
Lada VFTS GrpB

CC8
Power weight over 6,5 kg / HP
Fiat 126 Grp2
Skoda 130 RS Grp2
Skoda Favorit 136 L GrpA
Skoda 130 LR GrpB
Trabant P 800 RS GrpA
Wartburg 353 W 460 GrpA


_________________

7. Points :
At same score at the end of the Championship,
1. the driver with the most wins become the " Classic Cup '2020"
2.the driver with the last win become the " Classic Cup '2020"

Points will be score in every class after follow formula :
Driver in class – placement in finish + 0,5
---------------------------------------------------------------------------------------------- to multiply with 1000
Driver in class


"Driver in class" = mean all drivers who finished the first Stage

for example :
14 driver in class , 3.place in finish :
14 – 3 + 0,5
--------------------------------------------------- to multiply with 1000 = 8214 points !
14

for example multiply with 1000 :
| | | | | | | | | | | | |
| --- | --- | --- | --- | --- | --- | --- | --- | --- | --- | --- | --- |
| result in class/vysledky tridy | | 1 | 2 | 3 | 4 | 5 | 6 | 7 | 8 | 9 | 10 |
| driver in class/jezdzy tridy | 1 | 5,00 | | | | | | | | | |
| | 2 | 7,50 | 2,50 | | | | | | | | |
| | 3 | 8,33 | 5,00 | 1,67 | | | | | | | |
| | 4 | 8,75 | 6,25 | 3,75 | 1,25 | | | | | | |
| | 5 | 9,00 | 7,00 | 5,00 | 3,00 | 1,00 | | | | | |
| | 6 | 9,17 | 7,50 | 5,83 | 4,17 | 2,50 | 0,83 | | | | |
| | 7 | 9,29 | 7,86 | 6,43 | 5,00 | 3,57 | 2,14 | 0,71 | | | |
| | 8 | 9,38 | 8,13 | 6,88 | 5,63 | 4,38 | 3,13 | 1,88 | 0,63 | | |
| | 9 | 9,44 | 8,33 | 7,22 | 6,11 | 5,00 | 3,89 | 2,78 | 1,67 | 0,56 | |
| | 10 | 9,50 | 8,50 | 7,50 | 6,50 | 5,50 | 4,50 | 3,50 | 2,50 | 1,50 | 0,50 |
| | 11 | 9,55 | 8,64 | 7,73 | 6,82 | 5,91 | 5,00 | 4,09 | 3,18 | 2,27 | 1,36 |
| | 12 | 9,58 | 8,75 | 7,92 | 7,08 | 6,25 | 5,42 | 4,58 | 3,75 | 2,92 | 2,08 |
| | 13 | 9,62 | 8,85 | 8,08 | 7,31 | 6,54 | 5,77 | 5,00 | 4,23 | 3,46 | 2,69 |
| | 14 | 9,64 | 8,93 | 8,21 | 7,50 | 6,79 | 6,07 | 5,36 | 4,64 | 3,93 | 3,21 |
| and so on / a tak dale | 15 | 9,67 | 9,00 | 8,33 | 7,67 | 7,00 | 5,33 | 5,67 | 5,00 | 4,33 | 3,67 |